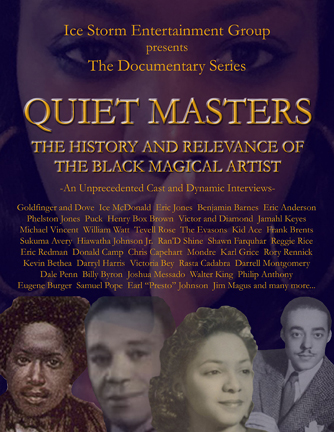 We are pleased to announce the completion of the documentary series "QUIET MASTERS – THE HISTORY AND RELEVANCE OF THE BLACK MAGICAL ARTIST".
This documentary contains important historical facts, an unprecedented cast and dynamic interviews from black magicians from around the world. Witness their journey as they tell stories of their struggles and triumphs. Audiences will learn about artists like Henry "BOX" Brown, a slave who mailed himself to freedom; Fetaque Sanders, who excelled in magic during some of America's darkest times; Ellen E. Armstrong from the first family of black magicians; and Richard Potter, who was born to a slave and her master, becoming the first American born professional magician.
Quiet Masters was produced and directed by Master Magician Kenrick ICE McDonald. On July 3, 2014, Kenrick ICE McDonald made history himself by becoming the first African-American National President of the Society of American Magicians, in the organization's 112 year history. The Society of American Magicians founded in 1902, is the oldest and most prestigious magic organization in the world.
"It brings me joy to expose and introduce to the world the rich history of the Great Black Magicians of the past, and also introduce them to some of the today's Great Black Magical Artists. This project took eighteen months and over fifty interviews to complete" says, Executive Producer Kenrick Ice McDonald. McDonald states that this documentary is like no other presentation on the black magical experience.
The artists in this documentary include: Goldfinger and Dove, Ice McDonald The Evasons, Phelston Jones, Benjamin Barnes, Rory Rennick, Kid Ace, Jamahl Keyes, Victor and Diamond, Chris Capehart, Meeka Diane, Hiawatha Johnson Jr., Eric Jones, Tevell Rose, Eric Redman, William Watt, Michael Vincent, Ran'D Shine, Victoria Bey, Eric Anderson, Sukuma Avery, Mondre and many others.
DEATH OF AN INNOCENT SWAN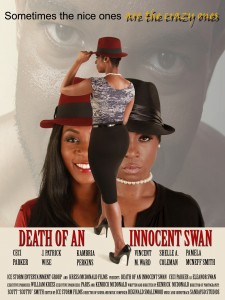 This film is about Eleanor Swan (Ceci Parker), an innocent young woman who does not follow her instinct, falls prey to harsh reality. What was supposed to be a simple dinner date and one night out dancing turns into a nightmare that drastically changes her life. Determined not to be a victim, Eleanor reaches deep inside her soul and acts on her newly learned lessons. The surprising elements of this film and its confrontations will keep you on edge as the storyline takes you through unforeseen twists and turns. As the writer of this film, ultimately I want the audience to feel every emotion that the character feels; from the sense of sadness and helplessness, to exoneration and relief through revenge. I also want the audience to understand how quickly one's life can be turned upside down due to circumstances beyond one's control.